The Estelle Series
Story 2
The depression had set in and in the summer of 1930, Estelle had turned 9.  Adjusting from the city life to farm life wasn't particularly easy, especially when the family went from modest means to barely scraping by.
Her father found work when and where he could and in the evenings he taught his girls how to farm.  It seemed that Estelle usually got stuck with the garden work, while her older sister took care of the two younger sisters and helped with house chores because their mother was quite far along with her fifth pregnancy.
Estelle didn't like that she couldn't see the house from the garden.  From the house there was no way to tell if rabbits or deer were trampling on their food, and there was no way to see her Mom from the fields.  After all, she was the designated one to run and get help from the neighbors if her mother went into labor and her father wasn't home.
It was a particularly hot June day.  Estelle was weeding row upon row of garden vegetables.  She was working on the row of cabbages and after tugging hard on a really deep root in the dry soil, she turned up a snake.  She flung that thing across the garden and screamed a shrilling loud scream.  Jumping to her feet trying to catch her heart before it leapt out of her throat, Estelle heard someone laugh at her. 
She looked around, but her sisters were nowhere to be seen.  She definitely heard a laugh...it was unmistakable.  She continued along, but had the creeping feeling like someone was watching her.  Not the doomed feeling she had with the man in the window...it was more like she was being watched...like a tiger that follows you in the jungle...you know he's on your trail but you can never quite see him or where exactly he lies in wait.
As she approached the end of the row of cabbages, she was up against the property line fence.  She rested for a few minutes from the shade the neighbor's apple trees gave her.  That is when she heard a snap and a rustling on the ground.  She quickly turned around...and then she saw him.  He was about 3 inches taller than she...and he had brown hair that swooped down in front of his eyes.  His eyes were outlined with thick eyebrows and his eyes never really looked at hers but she could tell they were dark.  His nose and cheeks were dotted with freckles and his skinny frame barely held up his britches.

He leaned up against the tree and polished off the red apple on his shirt.  Concentrating on his food, he ate the apple.  Estelle could see that was one juicy apple and this made her hungry.  "Can I have one of those apples please?" 
The boy didn't reply, he just continued to eat his apple.  "Hey boy!" she shouted a bit louder, "May I please have one of your apples?"  And again he ignored her.  He ate his apple down to the core and then walked off.  While she sat in the shade, the wind blew gently and low and behold a red apple fell out of the tree and into her lap.
Estelle ate the apple with delight.  It was perfect.  It put some food in her belly and it was juicy enough to quench her thirst.  Again she heard some rustling behind her.  This time she recognized her older neighbor Mr. Wojeski.  He came up to the fence line, "Hello there young lady."  His voice was gruff and deep. 
Estelle immediately felt the need to explain, "I was sitting here and the apple fell in my lap, I promise I didn't steal it."
"Well if it fell in your lap, then I guess it is yours then.  God puts plenty of apples on the trees you help yourself whenever you like."  He smiled.  Estelle realized his gruff voice didn't necessarily make him mean.  She couldn't bear getting the switch over something so delicious as an apple.  Then Mr. Wojeski said, "When your Pa gets home tonight, tell him I have some squash coming in from my brother down south.  He's welcome to stop by Friday and take as much as he likes."
Estelle thanked him and promised to tell her Dad as soon as he got home.  Bread and butter were a staple dinner during these times and some squash would be a fantastic treat.  She got up and finished her weeding and headed back to the house.  That evening over dinner, she told her Dad about Mr. Wojeski's offer and how she was allowed to eat from the apple trees out back.  Her Dad warned her not to eat more than an apple a day if she didn't want to live in the outhouse and so she agreed.
The next day she had house chores to do but as soon as her dad got home, he had Estelle help him carry buckets of water to keep the garden watered.  He found a cart and it made things easier, but still they had to carry the buckets from the cart to the plants because there wasn't enough room to roll it down the rows of vegetables.
On one trip to water the cucumbers near the fence line, she felt something catch on her leg and it seems she got her leg cut by the barbed wire.  The cut was long and deep and it hurt...but she knew she had to go about getting the watering done.  At this point, she took some of the water out of the pail and poured it down her leg to help it relieve the pain. When she looked up she saw the boy sitting up in the apple tree eating his apple.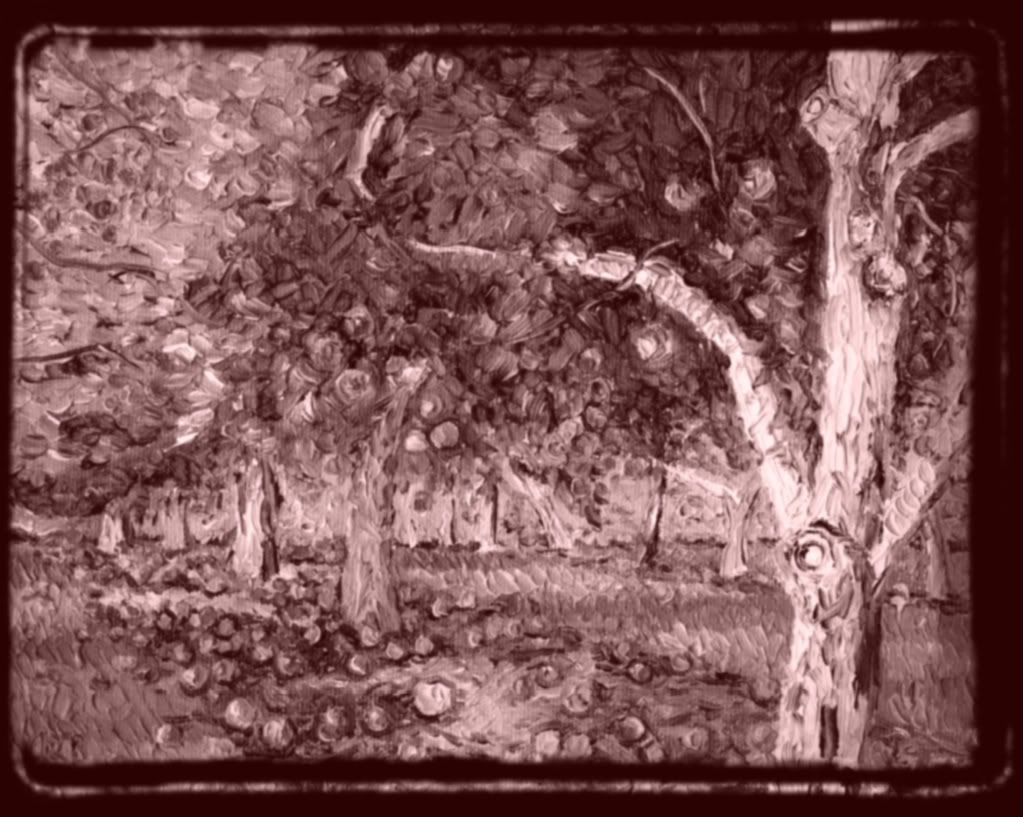 "You could scare a girl out of her skin!!" she startled, but he didn't seem to notice and stared down at his apple while he ate it.  She seen her dad come with another load of buckets and scurried up the row to drop her empty buckets off and get some full ones, she started on a row of peppers back by the fence and worked her way up.
The boy was still up there eating his apple.  "So what's your name?"  She asked.   He didn't answer so she turned to continue doing her work and she heard him answer, "Wells".
She snapped her head around, "Wells is it?" and with that he nodded his head.  She noticed his shiny yellow golden apple and the white juicy center.  Her mouth watered at the site of it.  "Mr. Wojeski said I could have an apple too." she declared.  "Would you mind if I had one?"  Wells shook the branch of the tree and a golden yellow and red apple fell in her hands and she polished it off and ate it.  She finished her chores and thought she was beginning to like Wells.
The following day was Friday, she was excited to go with her Dad to get the squash from Mr. Wojeski.  They came around to the front of their farm.  Back then, neighbor helped neighbor during these tough times.  Her family would return the favor in kind when their crops harvested.   They arrived and there was a whole wagon full of yellow squash.  Her Dad was so excited and Mr. Wojeski insisted he take enough to do some canning with.  Over by their car, Wells was leaning his back up against the door.  He had an apple and he was staring at it curiously.
Estelle helped her Dad load up some squash into their wagon.  Estelle went to jump out of the wagon and when she grabbed the wooden side she got a deep splinter from it.  The pain stung and she fought to hold back the tear.  Afterall, she didn't want to seem ungrateful to Mr. Wojeski.   When they were done, her Dad had about a 20 minute conversation with the neighbor...and Estelle watched as Wells hesitated in eating his apple.  Maybe he had been eating more than an apple a day and it was bothering his stomach, as her father suggested it would.
Just before it was time to go, she watched as Wells finally took a bite and then another.  From where she stood the apple was red but she couldn't see the juicy center.  She watched mesmerized for several minutes and realized that Wells had a mouth full of apple that he couldn't swallow.  She thought maybe he was choking...as his eyes grew big and he seemed to be on overload.  Each bite he tried to take looked painful.  She raced toward him and got within 10 feet and stopped in her tracks, "Wells, are you okay??  Are you choking??"  She was panicking on his behalf.
The boy just opened his mouth and to her horror she seen a mouth full of worms wiggling out.  They were all on his tongue, between his teeth and all over his hand that held what was left of the apple.  Estelle screamed in horror...and her Dad and Mr. Wojeski ran over to her.
"Make him stop that...Make him Stop!!"  She was ready to heave the lunch she had earlier.
"Young Lady, make who stop what?"  Mr. Wojeski replied.
"Him!" She pointed toward the car but couldn't turn to look.
"Who?" Her dad demanded.
She turned around and noticed Wells had run off.  "He was just right there." She said through her tears.  "I don't know where he went, but his name is Wells."
Her dad looked puzzled and Mr. Wojeski looked away.  When he looked back he was visibly shaken.  "Wells is my son." he admitted.  "Only he died 14 years ago, along with my daughter.  They got the TB and there was nothing we could do to save them."
Her Dad gave Estelle a rather strange look.  And Mr. Wojeski said, "I always had a feeling he hadn't left here."
On the way home, Estelle said nothing until her Dad asked about who she had seen.  He really didn't have much of a reply to what she told him and they pulled into their yard and her older sister was waiting to help unload the squash.
When she started to help unload the wagon, she saw worms all over the squash.  She screamed in horror, but her father would have no more of this nonsense.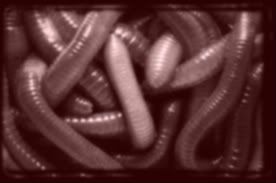 At the dinner table, they had bread and butter and squash for dinner.  Estelle asked for only bread and butter and her father scolded her for not eating what was in front of her.  She asked to be excused, which meant the switch and off to bed she went.  And that night Estelle went to bed hungry.
The next day, the entire family was extremely ill, except Estelle.  Their stomachs were cramping and they were heaving up the previous night's dinner and waiting in line at the outhouse.  Mr. and Mrs. Wojeski were taken ill too.  Estelle realized that Wells had tried to warn her that the squash was bad.  Her family had her take it all out of the house and burn it.  That was the last she saw of Wells for several years...
**The images presented here are from Google Images Search.  Each one can be linked back to its original author by clicking on the picture, where you can see a better view of the picture in its original format.**

***This story first appeared on my RedGage Account and can be found here.***